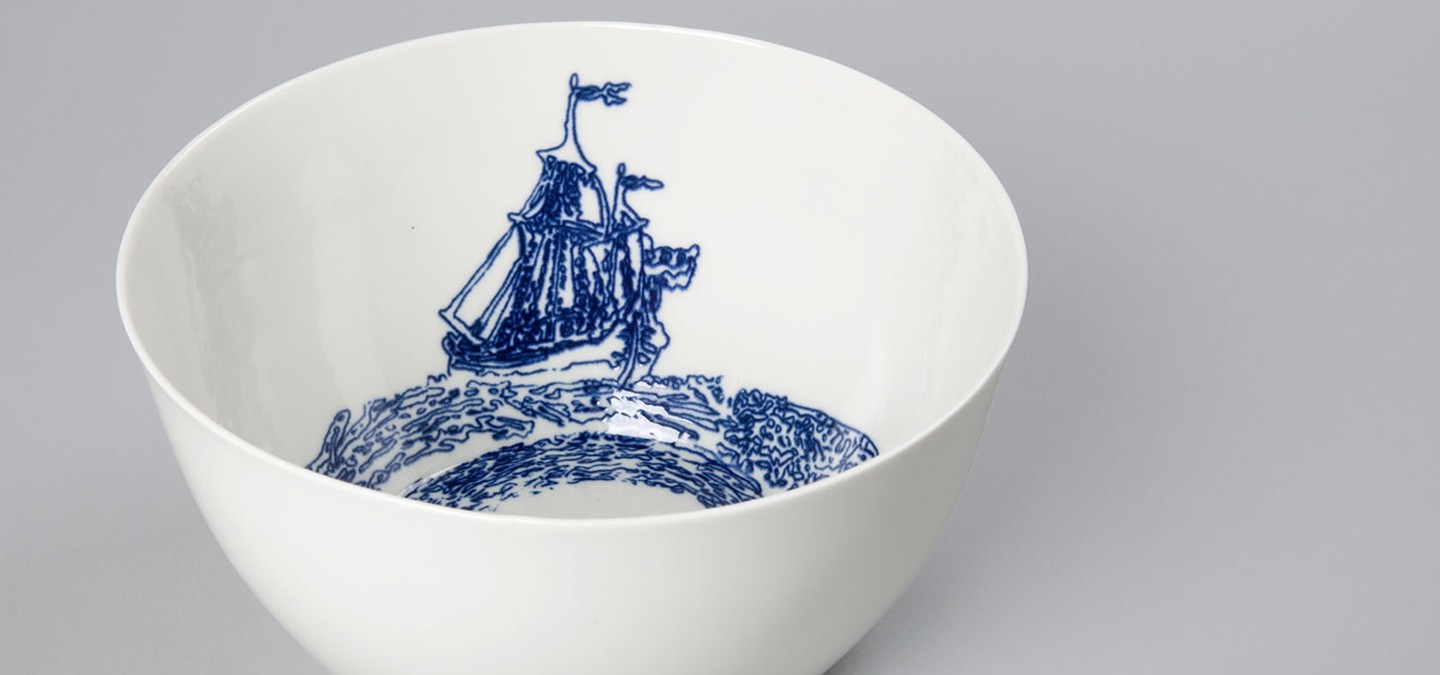 Dutch delftware has inspired many artists and designers. It is above all the style that provides a source of inspiration for new products, though the tin-glazing technique is also still used.
Clay slip and screenprinting
Around 1750 Dutch delftware began to decline in popularity. There was competition from ceramics produced elsewhere in Europe and in China, and from cheaper and more robust English tableware. Around 1800 ten potteries were still in operation, but after 1858 only De Porceleyne Fles remained.
To compete with the new imported ceramics De Porceleyne Fles adapted its production technique. Under the ownership of Joost Thooft the factory developed a procedure whereby slip was cast in moulds, speeding up the production process enormously.
Unlike the clay used for faience, the slip turned white when fired, and the pot could be painted immediately after the first firing (on the biscuit). Only a layer of transparent glaze then needed to be applied.
Printed decorations can barely be distinguished from handpainted
Traditional Dutch delftware is handpainted, but in 1750 a printing technique – transfer printing – was developed for applying the decoration. These days screenprinting is used, and the result can barely be distinguished from handpainted. Often such objects are labelled 'handmade' rather than 'handpainted'
Modern Delftware can still be distinguished from other earthenware: it is made in Delft, of white-glazed earthenware or porcelain and it is painted or printed, often with motifs that refer to antique Dutch delftware.
Pyramids
Most of today's producers use the technique developed by De Porceleyne Fles. In the Netherlands Royal Tichelaar in Makkum is the only producer that makes faience according to the original technique.
Using its knowledge of this process, Royal Tichelaar restored some 17th-century flower pyramids for the Rijksmuseum. They provided the inspiration for the pyramids in the old Delft style produced in Tichelaar's Pyramids of Makkum series, in which designers like Studio Job and Hella Jongerius made 'modern' pyramids that recall the 17th-century flower pyramid.
Dutch delftware is a source of inspiration for new interpretations and modern design
Dutch Design
Given the renewed interest in traditional crafts, Delftware has inspired new interpretations as part of the Dutch Design movement.
The Delft 'tulip vase', in particular, is an inviting challenge for designers. These vases were produced in all kinds of shapes and sizes from around 1680 onwards, including gourd-shaped bottles, bowl shapes and goddesses with spouts protruding from their heads. Some of the vases are as much as two metres tall. Contemporary designers like Guido Geelen, Ineke Hans and Wieki Somers draw inspiration from these versions for their own 'tulip vases'.
There is still a vibrant trade in Dutch delftware
Heritage
Dutch delftware is one of the best-known international symbols of Dutch culture. It is no coincidence that there is still a lively trade in Delft Blue. De Porceleyne Fles, known nowadays as Royal Delft, not only sells Delft Blue from its own factory, it also offers the 'Royal Delft Experience', in which visitors can discover the history of its product. The trade in historical Dutch delftware is vibrant, and new finds regularly turn up on TV antiques shows.