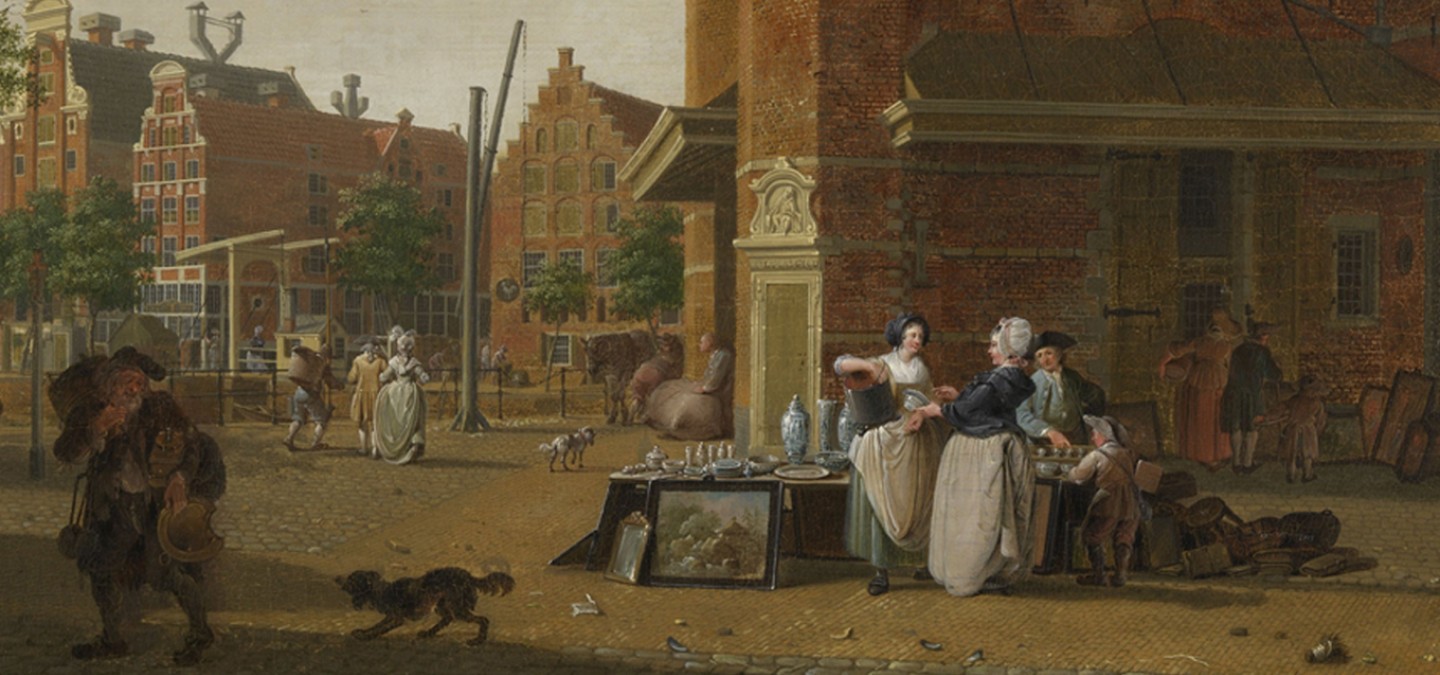 In their heyday Delft's potteries made millions of items of Dutch delftware every year. They were not only sold in Delft, of course, but found their way all over the world via major trading centres.
Who owned the potteries?
Since the Middle Ages, industries in towns had been controlled by guilds. A guild represented the interests of a particular industry to the town's authorities and protected the trade. Only masters of a certain guild could start their own company. This was a way of controlling the quality of the product and the market.
Artistic craftsmen in Delft were affiliated to the Guild of Saint Luke
The potters in Delft were members of the Guild of Saint Luke, as were other artistic craftsmen: painters, glassmakers, embroiderers, sculptors, bookbinders and sellers and art dealers.
Shops and pedlars
In the home of the owner or manager of a pottery there would often be a room that was used as a shop, where the earthenware items would be displayed on tables and shelves. Private buyers and smaller traders would buy their Delftware directly from this salesroom. Larger dealers would be received in a separate room to discuss deals.
According to a notarial act of 1665 the De Drie Porceleyne Flessies pottery displayed dishes, cups, jugs and flowerpots in its salesroom. The stocks of different items would be stacked high in the warehouse.
The earthenware items would be displayed on tables and shelves in the pottery salesroom
In the rest of the country the faience Traditional term for tin-glazed earthenware. Earthenware objects with a thin body that are completely covered with a layer of tin glaze (generally white). The objects have a smooth front. On the bottom of chargers the imprints of the pegs on which the objects rest inside the saggars during firing can be seen. Probably references the name of the city of Faenza, an Italian centre of production. goods would be sold in shops, on the market, at fairs and by pedlars. The majority of the trade in the Republic was via merchant houses and shopkeepers in trading centres like Amsterdam and Rotterdam. Delftware would be transported there on barges, packed in baskets or crates.
Exports
These trading centres were also important transit ports for exports. Surviving ledgers of Delft potteries show that their products were sold to neighbouring countries, and also to Denmark, Poland and even as far afield as Curacao and Boston. Soy sauce from Japan was for example packed in Delftware bottles. It is therefore no wonder that Dutch delftware is found in museum and private collections the world over.
Soy sauce from Japan was packed in Delftware bottles