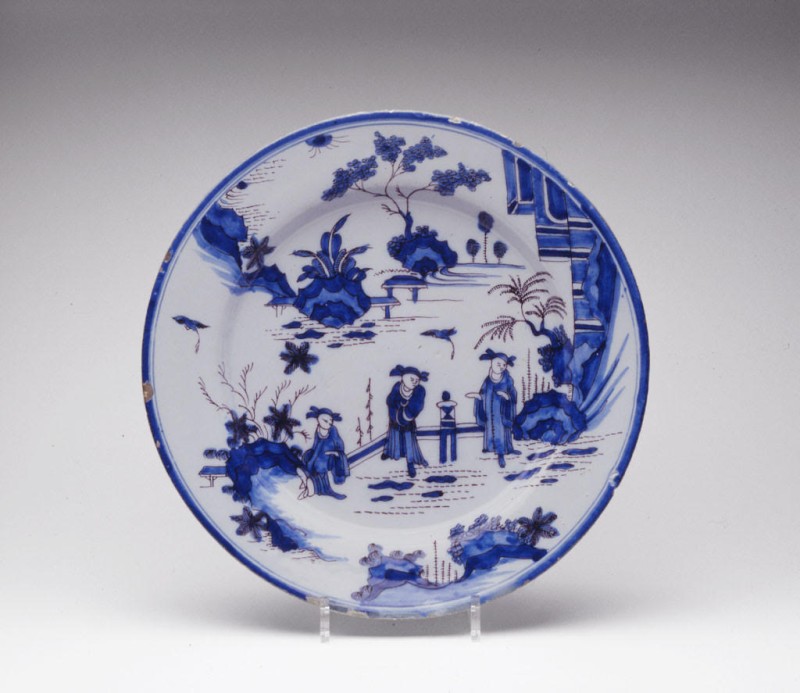 De Porceleyne Fles was established by David Thoniszoon van der Piet in 1653. The pottery stood on the west side of Oosteinde. Of more than thirty potteries that once manufactured faience in Delft, this is the only one still in existence today.
The NV Koninklijke Delftsch Aardewerkfabriek 'De Porceleyne Fles Anno 1653', or 'Royal Delft' is now at 196 Rotterdamseweg. A notarial act of 1655 recording the last will and testament of David van de Piet (or Pieth), reveals that he had established a pottery for his youngest son Jan. We also know that, on 21 July 1653, Jan registered as a master potter with the Guild of Saint Luke. His father David sold the pottery to Wouter van Eenhoorn and Quirijn Alderszoon (van) Cleijnhoven or Kleijnoven in 1655.
The contract shows that Van Eenhoorn and Kleijnoven entered into a partnership, and also that the pottery was not yet in order at that point. Alterations were still being made to the premises, to create a 'suitable shop'. Kleijnoven also undertook to educate Van Eenhoorn, who apparently knew nothing about manufacturing faience. Quirijn was allowed to live at the pottery free of charge in exchange for certain duties performed at night, such as stoking the kiln. He was also responsible for receiving merchants, while his wife Engeltje Pieters. Oprust would sell the factory's wares.
The partnership was dissolved after eight years, and until 1697 the pottery remained in the sole ownership of the Kleijnovens. For several years Quirijn Kleijnoven is listed as a hoofdman ('headman') in the 'Meesterboecken' ('Master Books') of the Guild of Saint Luke. A report by the municipal fire inspector of 1668 reveals that Kleijnoven's company had two kilns. We know of no objects from this period that have a factory mark. Nevertheless, four dated objects are likely to have been made by Kleijnoven's company. They are part of a group of Delft faience archaeological finds excavated from a well on the former site of De Porceleyne Fles in 1980.
One of them is a plate dated 1673, with the inscription 'Engeltie Kleijnoven'. The group, comprising more than 120 objects, also includes a small plate dated 1680 with notes on colour experiments. The well also contained decorated flatware with motifs that include landscapes, as well as undecorated white delftware, including a large number of small bowls, candlesticks and sconces. In 1697 the widow Engeltje Kleijnoven-Oprust sold her company to Johan Knotter, a merchant from Leiden. After Engeltje's death on 11 February 1699 an inventory of her property was made before it was divided among her heirs. It contains barely any reference to Dutch delftware.